Jul
13
Thu
LIVE Webinar: Transdermal Compounding – Addressing Veterinarian and Client Questions and Developing a Formulation
Jul 13 @ 12:00 pm – 1:00 pm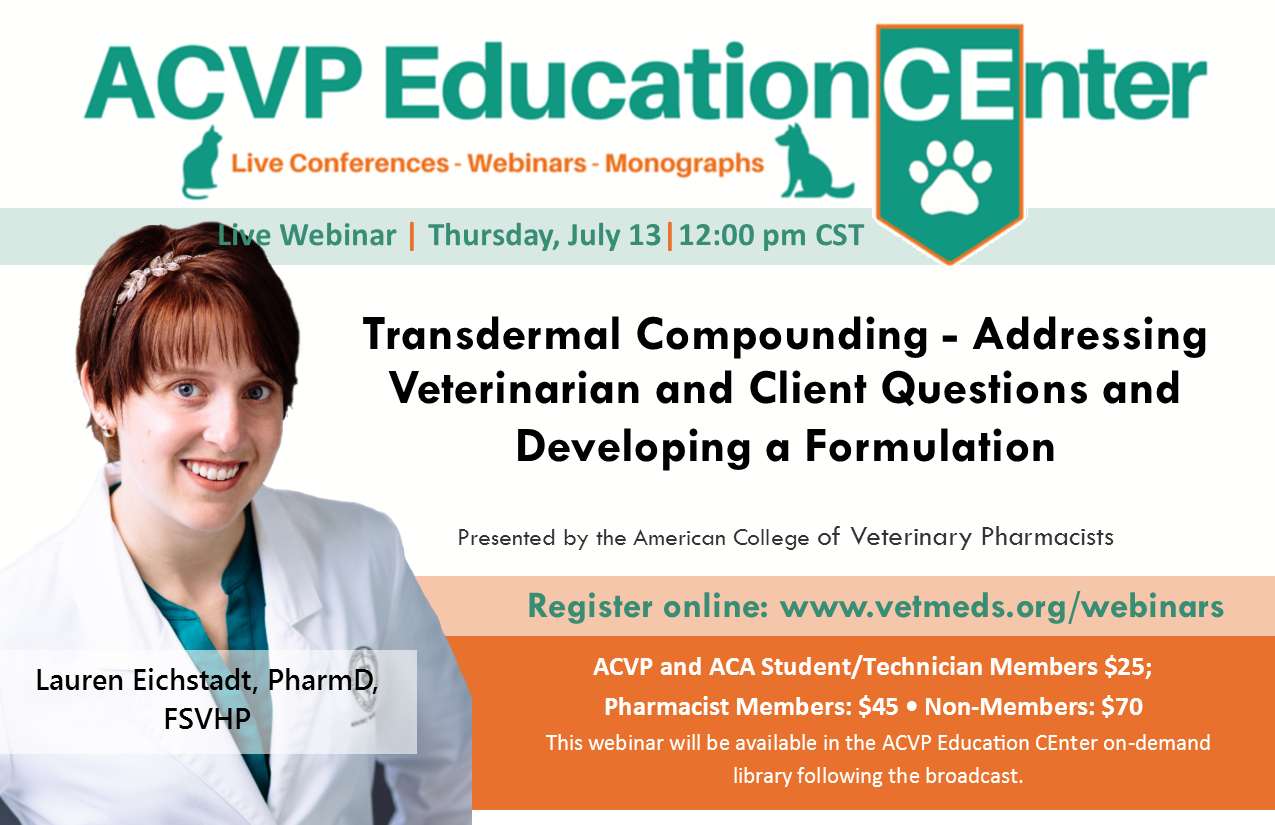 Online Registration: http://www.vetmeds.org/webinars
Summary:
Transdermal compounds are the ideal way of administering medications to many feline patients. Therefore, veterinarians and clients often have questions about these products. In addition to being able to address these questions, it's important for the compounding pharmacist to have a transdermal formulation that provides a finished product in which they can be confident of the science backing its safety and efficacy. This one-hour course is designed to address some of the questions commonly posed by veterinarians and clients and discuss important considerations when creating a formulation for a transdermal product.
Presentation Objectives:
Develop a formulation for a transdermal product
Discuss different transdermal bases and the pros/cons of each
Recall common questions posed by veterinarians and clients regarding transdermal compounds
This is a knowledge-based CE activity and is targeted to pharmacists and technicians.
The American College of Apothecaries (ACA) is accredited by the Accreditation Council for Pharmacy Education as a provider of continuing pharmacy education. ACA has accredited this program for 1.0 contact hour (0.1 CEUs) of continuing education credit for pharmacists and technicians. ACPE UAN: 0201-9999-17-047-L04-P and 0201-9999-17-047-L04-T.
If you are interested in earning credit for this program, please note that you will be asked to enter your NABP e-Profile ID and date of birth during the credit selection step of the registration process. If you have not yet registered your NABP e-Profile ID, please visit www.nabp.net.
Presenters:
Lauren Eichstadt, PharmD, FSVHP
Dr. Eichstadt graduated from the University of Findlay, College of Pharmacy in May 2015. After growing up with both parents being veterinarians and competing with her Quarter Horses at the national level, veterinary pharmacy was a natural career choice. Dr. Eichstadt started at Purdue's Veterinary Teaching Hospital as their first veterinary pharmacy resident in June 2015. Upon completion of her residency in June 2016, Dr. Eichstadt assumed a staff pharmacist position at UC Davis Veterinary Teaching Hospital.
Jul
20
Thu
Fundamental Compounding and Calculations

@ ACA National Training Lab
Jul 20 @ 8:00 am – Jul 22 @ 2:00 pm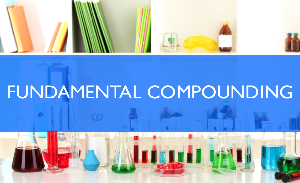 Register Online
FUNDAMENTAL COMPOUNDING & CALCULATIONS is a 3-day, 21-hour practice-based course designed for pharmacists, technicians, marketers, and students who are new to compounding or who have had training in the past, but want a refresher. Physicians and other health care professionals are welcome to attend. This hands-on course focuses on the proper preparation of fundamental dosage forms utilized by pharmacies that are compounding medications for their patients. Participants will learn through pharmacy calculation practice, lectures, and hands-on laboratory training in a fully equipped USP 795 lab. Our low instructor/participant ratio allows for individual attention and interaction. The program is structured to demonstrate skills that can be immediately implemented by participants.
View or download Course Flyer (includes Objectives, Fees, Class Policies)
View or download Course Schedule
Veterinary Compounding Essentials – Letco

@ Compounding Training Center of the North East
Jul 20 @ 8:00 am – Jul 21 @ 5:00 pm
Register Online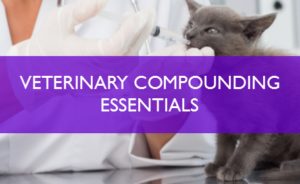 VETERINARY COMPOUNDING ESSENTIALS is a 15 hour practice-based course that introduces pharmacists, technicians, and marketers to veterinary pharmacy compounding. The program provides fundamental techniques for effectively growing the veterinary compounding practice, including calculations, proper safety practices, hands-on compounding, and marketing.
Funding for this class was made possible in part through an unrestricted grant-in-aid from Letco Medical LLC.
View or download Course Flyer (includes Objectives, Fees, Class Policies)
View or download Course Schedule