Reservations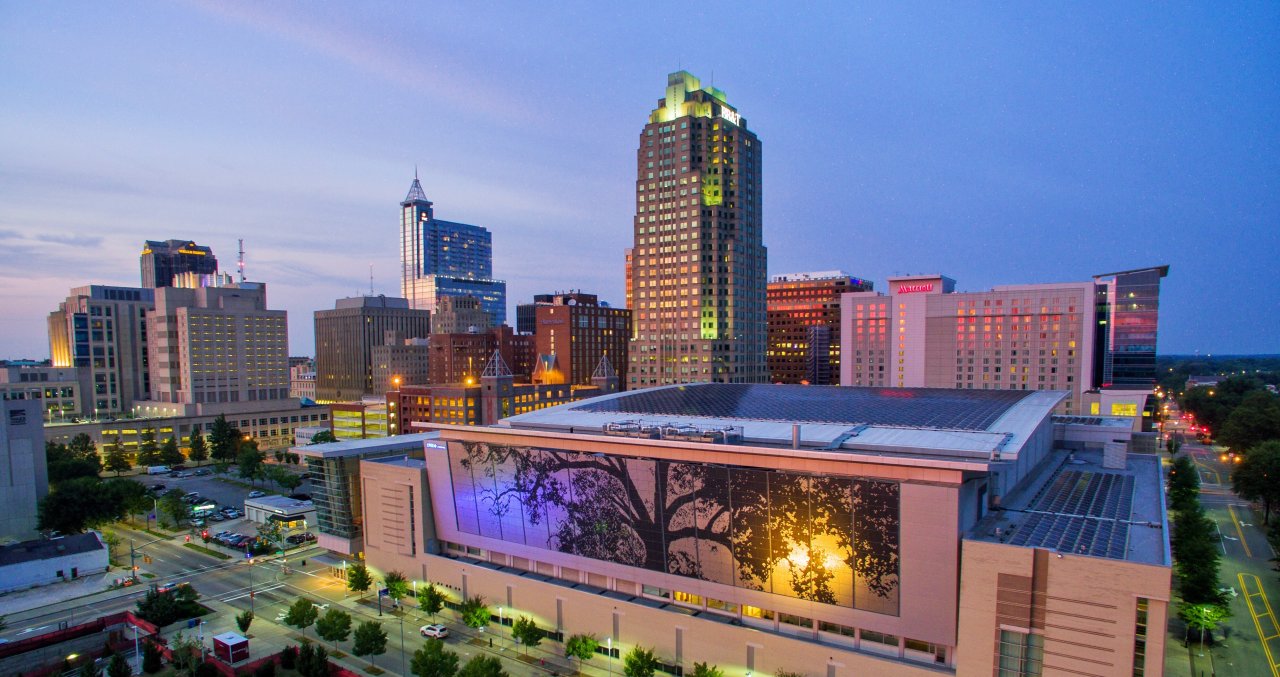 Raleigh Marriott City Center
500 Fayetteville Street, Raleigh, North Carolina 27601
$179+ tax per night
At the Raleigh Marriott City Center, a contemporary convention center hotel in the heart of revitalized downtown, you'll discover unparalleled luxury and convenience.
Once inside the hotel's stylish and comfortable great room lobby you can access complimentary Wi-Fi, unwind with a Starbucks or signature cocktail and locally inspired entrée from Rye Bar & Southern Kitchen. The modern amenity-filled guest rooms feature 55" flat screen TV's and modern work spaces. Elevate your exercise routine in the 24/7 fitness center, featuring Peloton bikes.

The Conference room rate is guaranteed to be available until 
May 9, 2022
using the link below. If you get a "no rooms available" message or for assistance with reservations, contact Susan Decker, ACVP Director of Conferences, at
434-989-5938
 or 
susan@acainfo.org
.
Parking
Both valet parking and self-parking are available at the hotel's prevailing rates. The Raleigh Marriott City Center is above a 900-space parking garage which serves the convention center and hotel guests alike:
Convention Center Underground Deck
1 W Lenoir St (entrance is on the north side of the street between Fayetteville St. and Salisbury St.)
Raleigh, NC 27601
Getting There
Located centrally on the East Coast, Raleigh is halfway between Florida and New York City making transportation easy from the major population centers. Raleigh is located near three major interstates, I-40, I-95, and I-85
More than half of the United States population lives within a day's drive or an hour's flight from Raleigh-Durham International Airport (RDU). Raleigh's Union Station has daily Amtrak service.
Things to Do
Discover all Raleigh has to offer! Visit the Smithsonian of the South, indulge your inner foodie, and explore one-of-a-kind shopping, all while enjoying  big city amenities with a Southern twist.
Raleigh is also a great "home base" convenient for side trips to the beautiful beaches of Wilmington or N.C.'s Outer Banks, to the scenic Blue Ridge Mountains to the west or to the "Home of American Golf" to the south in Pinehurst.
We've asked our favorite locals for their recommendations of  must-sees and dining recommendations. Click below for more information.
How many credit hours are available at the 2022 Veterinary Pharmacy Conference?
The 2022 Veterinary Pharmacy Conference is approved for up to 8 (0.8 CEUs) of continuing education. The American College of Apothecaries, Inc. is accredited by the Accreditation Council for Pharmacy Education as a provider of continuing pharmacy education. All sessions carrying the ACPE program number are approved for continuing education credit.
---
How do I receive my CE credits?
Lecture Panda is the online platform we are using to provide access to presentations and handouts, post-conference evaluations,and to automatically upload your completed CE to ACPE's CPE monitor. You will need to have your NABP number in order to register as a pharmacist or pharmacy technician and receive CE credit on Lecture Panda (options are available for Canadian and international registrants). You will need to register on Lecture Panda using the same email address that you used to register for the conference. Click here to access the 2022 Veterinary Pharmacy Conference Portal on the Lecture Panda Website
At the end of each session that is approved for CE credit, a code will appear on the screen. You will need to write this down to use to unlock the corresponding evaluation for that session in Lecture Panda. Please note that codes are not case sensitive.
Attendees are required to complete an evaluation form at the completion of the program. CE will be uploaded automatically to the CPE monitor when attendees submit their credits through Lecture Panda. CE credit is only applied to those sessions you attend and/or watch on demand.
After completing the course evaluation form for each session, click the large green "Submit credits" button and confirm that the status of your credit(s) is "complete." Your CPE credit should appear in CPE Monitor within 24 hours and it is the attendee's responsibility to check the CPE Monitor to confirm that all credits were received. We strongly recommend that all CE activities be completed within 14 days of the end of the conference. You must submit your CE through Lecture Panda by August 5, 2022  in order to receive credit for the live sessions.
---
Will I receive a certificate?
Once your CE is successfully uploaded to the CPE monitor for each session, you will be able to download and print a certificate for that session from Lecture Panda. Participants who are not eligible for CE will be able to download a statement of completion.
---
Will there be meeting handouts for the sessions?
Attendees can view or download pdfs of the presentations and session handouts within the Lecture Panda platform.
---
Still have questions?
For registration questions, contact registration@vetmeds.org
For questions about accessing Lecture Panda or claiming CE, contact training@acainfo.org
For all other questions, contact events@vetmeds.org
American College of Veterinary Pharmacy Conference Policies 
ELECTRONIC MATERIAL DELIVERY: Presentation materials will be available to conference attendees via an emailed link beginning 7 days prior to the first day of conference. Conference attendees may download the materials to an electronic device or make a printed copy for their own use.
MEDIA PERMISSION:  Attendees may to be photographed, videotaped, or electronically imaged for the purposes of promotional materials, news releases, or other published formats for the American College of Apothecaries (ACA), or the American College of Veterinary Pharmacists (ACVP). The images will be the sole property of ACA | ACVP.
ENROLLMENT POLICY: The mission of the American College of Veterinary Pharmacists is to provide pharmacy professionals with the tools need to collaborate with veterinarians and provide optimal care for non-human patients. Attendance at ACVP Conferences is not limited to members of ACVP. Participants registering as student pharmacists must be currently enrolled in an accredited school of pharmacy and be able to provide proof of status and class spaces may be limited.
CANCELLATION POLICY:
If attendee cancels 30+ days before event – full refund less 5% administrative fee
If attendee cancels 29-14 days before event – 50% refund
If attendee cancels 13-1 days before event – no refund
On occasion, ACVP may need to reschedule or cancel a conference due to circumstances beyond our control, and attendees should plan travel accordingly. We recommend purchasing travel insurance or booking with an airline that will allow you to reschedule your flight if the need arises.